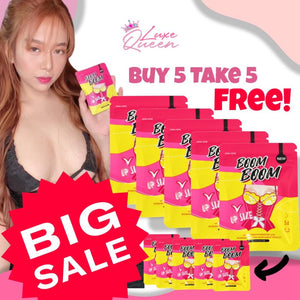 Boom Boom Up Size 50 Capsules
Regular price ₱1,307.25 ₱992.25 Sale
🙌🏻 Boom Boom Up Size 🙌🏻
Women's wonder supplement 🤩
The combination of famous Thai and Chinese organic herb together as one! 🥺✨
 Almost a year of preparation. 6 months in the making plus 6 months trial.. Finally! The perfect ingredients in 1 Capsule! 🥳💖
200mg L CARNITINE
100mg PUERARIA POWDER
100mg DONG QUAI POWDER 
100mg TURMERIC 
All contributes to these amazing benefits!
⭐️ BENEFITS ⭐️
- Helps with DYSMENORRHEA 
- May help in balancing female hormones  
- Rejuvenating Herb for youthfulness in both women and men 
- Wrinkles are significantly reduced
- Improves memory especially in ages 40 and up
- Slows down the process of hair graying (puting buhok)
- Beneficial for perimenopausal women
- Deodorizing benefit to prevent fishy smell down there
- Natural anti inflammatory
- Helps with burn fat even when you're sleeping 
⭐️ HOW TO TAKE ⭐️
Take 1 Capsule before sleep followed by a glass of warm water. Increase to 2 Capsules after 10 days.
We recommend you to take this supplement everyday for 3 months for more visible results and more benefits! 🤩
❌NOT FOR PREGNANT WOMAN
❌NOT FOR BREASTFEEDING WOMAN
❤️15 YEARS OLD UP ONLY! 🥰
1 pack has 10 Capsules! 🤗
5 packs = 1st month use
6 packs = 2nd month use
6 packs = 3rd month use 
3-6 packs = 4th month use and so on..